Colombian police arrest paramilitary leader 'Movil 5'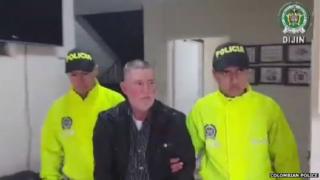 Police in Colombia have arrested a senior paramilitary known as Movil 5.
The man, whose real name is Manuel Salvador Ospina Cifuentes, was on the run after being found guilty of the massacre in 1990 of dozens of villagers in Pueblo Bello village.
He is also suspected of killing Carlos Castano, the leader of Colombia's largest paramilitary group, the AUC.
The AUC demobilised in 2005 but many of their members went on to join new criminal groups.
The paramilitaries were formed in the 1980s by cattle ranchers to counter Marxist rebel groups that have been battling the government for five decades.
Family business
Ospina Cifuentes was arrested in the city of Medellin after a lengthy surveillance operation.
He started his criminal career as a security guard for Carlos Castano's brother, Fidel.
In 1990, Ospina Cifuentes was part of a gang of men who entered the village of Pueblo Bello in northern Antioquia province and killed 43 people.
The gang said the massacre was in revenge for the alleged theft by the villagers of 43 cows belonging to Fidel Castano.
After the disappearance of Fidel Castano in 1994, Ospina Cifuentes transferred his allegiance to another Castano brother, Vicente.
Prosecutors say that in 2004, acting on Vicente's orders, Ospina Cifuentes was one of 30 men who cornered and shot dead Carlos Castano at his hideout in the north of the country.
Deadly feud
Analysts believe the two brothers had fallen out over their group's involvement in drug trafficking.
Carlos Castano was thought to be more interested in the paramilitaries' role in fighting Colombia's left-wing rebels, while Vicente is said to have been lured by the profits of the cocaine trade.
With Carlos Castano moreover involved in negotiations with the Colombian government over the AUC's eventual demobilisation, his brother and other senior paramilitaries feared he might reveal the location of lucrative drug routes in exchange for a more lenient sentence.
His body was found in a shallow grave in 2006.
On the run
Vicente Castano has been sentenced to 30 years in prison for ordering his brother's murder, but his whereabouts are unknown. Some in the security forces believe he has gone on to lead a criminal gang called the Black Eagles.
Ospina Cifuentes is expected to be charged with carrying out Carlos Castano's murder. He was already sentenced in absentia to 30 years in jail for his role in the Pueblo Bello massacre.
The Colombian government is currently in peace negotiations with the country's largest left-wing rebel group, the Farc.
Government negotiators say they have learned from "mistakes" in the AUC's demobilisation and will invest in the reintegration of the rebels to ensure they do not go on to join criminal gangs if a peace deal is signed.