Strong earthquake of 6.4 magnitude hits Mexico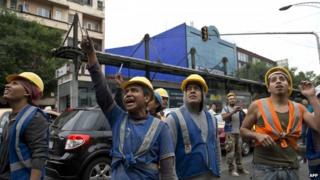 An earthquake of 6.4 magnitude has shaken parts of Mexico, causing buildings to sway in the capital.
The US Geological Survey said it was centred near the town of Tecpan de Galeana in southern Guerrero state, about 190 miles (300km) south-west of Mexico City.
It was also felt in the resort city of Acapulco, the Associated Press says.
There are no reports of any damage or injuries but frightened office workers ran into the streets in the capital.
'Too scary'
Engineer Daniel Rodriguez, 55, fled his second floor office. "At first it felt like a jolt and then it started to move," he told AFP news agency.
"The floor I was standing on started to creak," another office worker said.
And businesswoman Carmen Lopez told AP: "That was just too scary."
Mexico lies on top of three continental plates and is regularly shaken by tremors.
Finance Minister Luis Videgaray was mid-speech at the National Palace in Mexico City when the latest quake struck, Reuters reports.
"I think we'd better take a pause if you don't mind," the news agency quoted him as saying.
The quake had a depth of 15 miles (24km).
The US Geological Survey downgraded the magnitude from an earlier figure of 6.8.
A 7.2-magnitude quake with an epicentre about 40 miles (66 km) from Thursday's quake shook central and southern Mexico last month.
In 1985, at least 10,000 people were killed in Mexico City by a magnitude 8.1 earthquake.