Mayor of Mexico port city arrested over 'cartel links'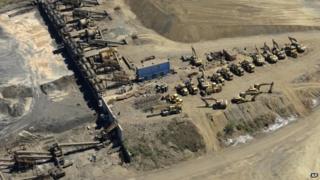 The mayor of the Mexican port city of Lazaro Cardenas has been arrested on suspicion of taking part in kidnappings and extortion.
Arquimedes Oseguera is also accused of having ties to the Knights Templar drugs cartel, all of which he denies.
Lazaro Cardenas is one of the main port cities on the Pacific coast and a stronghold of the cartel.
The city's treasurer has also been arrested on suspicion of having links to the Knights Templar.
Smuggling hotspot
Lazaro Cardenas has a deepwater seaport, and police say the Knights Templar ship illegally mined iron ore from the city to China.
Tonnes of precursor chemicals used to manufacture illegal synthetic drugs have also been seized in the port over the past years.
The Knights Templar are one of the main suppliers of methamphetamines to the United States.
Their leader is believed to he hiding in or around Lazaro Cardenas.
Three of the cartel's top bosses have been killed or captured since the beginning of the year in a crackdown by the security forces.
Two weeks ago, the mayor of Apatzingan, another Knights Templar stronghold, was arrested on suspicion of extorting money on behalf of the cartel.
Farmers in western Michoacan state have long complained about the power of the Knights Templar and the corrupt nature of local officials.
Many have joined "self-defence" groups which have taken control of a number of small towns in the state.
On Monday, Mexican security forces started registering the weapons of the vigilante groups as part of a deal with the government to incorporate them into the official security forces.
The vigilantes have until 10 May to register their guns. Anyone found carrying weapons illegally after the disarmament would be detained, officials warned.