Court order halts Brazil football match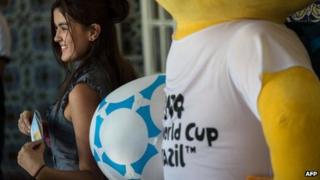 A Brazilian second division football game has been abandoned because one of the teams said they now had a court order to play in the top division.
Portuguesa's players left the field after just 16 minutes against Joinville.
A court official had turned up at the game with the ruling.
Portuguesa had been relegated last season after being deducted four points for fielding an ineligible player but filed a lawsuit challenging the ruling.
Portuguesa told the match officials of the latest court ruling and were instructed to keep playing, but left the pitch with the game at 0-0.
Joinville's players stayed on the field and the referee waited for 30 minutes before calling the game off.
Joinville president Nereu Martinelli told local media: "This is not our problem. Now it's up to the federation to solve this."
The opening round of first division games is due to begin on Saturday.
The Brazilian federation has overturned similar rulings against it but it remains unclear how the opening fixtures will be affected.
Portuguesa had agreed to continue playing second division games so as not to disrupt the competition but said they could not go against the court ruling.