Gabriel Garcia Marquez: 'He made a reader of me'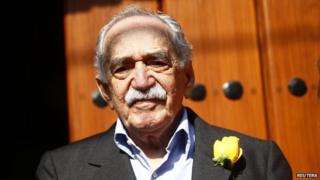 Nobel prize-winning Colombian author Gabriel Garcia Marquez has died in Mexico aged 87.
The author was best known for his masterpiece of magic realism, One Hundred Years of Solitude, for which he was awarded the Nobel Prize for Literature in 1982.
Gabriel Garcia Marquez's other works include Love in the Time of Cholera, Chronicle of a Death Foretold and The General in His Labyrinth.
He was considered one of the greatest Spanish-language writers and pioneered magic realism, a unique blending of the marvellous and the mundane in a way that made the extraordinary seem routine.
BBC News website readers have shared their memories of their favourite Gabriel Garcia Marquez books.
Gary Wilson, Clitheroe, England
As a reader, I was born in Macondo, where Marquez revealed to me the possibilities - and magic - of fiction.
By the time I'd reached page 195 of my copy of One Hundred Years of Solitude, there was nothing left of doubt or scepticism in my mind about the world he'd created.
I witnessed the ascension of Remedios the Beauty, rising among all those sheets she'd been hanging out to dry, and I accepted what was happening as surely I would accept seeing a sunrise or the flight of a swallow.
Marquez's narratives shatter our preconceptions.
The astonishing, beautiful, brutal world of Macondo - a place I have visited, a place I would leave again and again with a heightened sense of the miraculous - is no less real than our own.
Marquez sensitized me to fiction as transformative, enlightening.
He made a reader of me.
Carmen Morawska Lasso, Windsor, England, but originally from Ecuador
In the summer of 2002, a friend of my father's gave me a book that would change my life.
At the young age of 12, Of Love And Other Demons taught me about love, hope, and loss before life did.
It introduced me to a world where magic and reality became one; where the impossible and the ordinary blend into a cohesive narrative.
His words made me become enchanted with my own continent.
It encapsulated the often contradictory nature of Latin America - so beautiful and magical, yet harsh and crude.
Garcia Marquez portrayed the reality of a place that is vibrant and filled with joie de vivre, but which struggles with the controversy of its social and political reality.
George Nyabuga, Nairobi, Kenya
I have read all of Gabriel Garcia Marquez's works and he greatly impressed me.
My favourite will always remain One Hundred Years of Solitude but he was a master storyteller.
I never put down the books once I started to read them, even when I was pressed for time.
I shared the book with many of my friends and all of them always came back hugely impressed.
Now, I look at my worn-out copy and think how I have shared my greatest storyteller with others. All of us have benefited greatly from his writings and insights.
Your time on earth was not in vain.
You will be sorely missed. RIP Gabriel Garcia Marquez.
Gordon Linton, Dundee, Scotland
I first read One Hundred Years Of Solitude in 1978.
I was nine years old.
I am not voicing cliché when I say it really altered my perceptions.
I have read it many times since and I compel everyone to read it.
It has changed my life for the better; if you believe in love, passion, justice and poetic romance you truly will never enjoy another modern novel more.
It is like a dream made real.
Thank you Gabo.
There are no words.
Now you are gone.
Andres Jimenez, Cincinnati, USA, originally Bogota, Colombia
Mr Garcia Marquez was an institution and his literature was a must in our upbringing, whether in private or public schools and regardless of the social stratum of the home milieu.
As a physician, who in practice has had to work in many different settings across Colombia (and now in Latin America), the real shocker is to find yourself embedded in local cultures and idiosyncrasies only to find out the writings of his magical realism are as valid today as when originally published; the good and the bad. Outside of the posh Bogota, Colombia feels a caricature stuck in time.
Pia K, USA
Words can hardly express my sadness over his death. although I had never met him. When I read Cen Anos de Soledad at the age of 19, I forgot everything else, and my outlook in life changed. I was transported beyond the world of order, routine and necessity, and entered what I can now only call wonder, spirit, and intense feeling; for his magical world was not only filled with fantastic visions, but steady, poetic feeling. And so I have loved him, the author, the transmitter of visions, and transformer of souls. He was a magician, and I wish he could have lived forever.
Radha Krishnamoorthi, Chennai, India
I have never known you, yet known you. I have wandered in your labyrinth, a 1000 years, in solitude, in times of love and cholera, with my memories, the general, the patriarch, the many rivers of the south, my melancholy whores, the occasional news of kidnappings, deaths foretold, chronicles of magic and of reality. Vaya con dios mi hermano. RIP Gabriel Garcia Marquez. Gracias.
Steven De Craen, Brussels, Belgium
I was lying in a hammock, mosquitoes buzzing, the cry of a monkey far away in the forest, surrounded by the heavy scent of the tropical night. I turned the cover of a book and started reading, flashlight in my hand. It was a love story. A long and slow one. Set in the tropics. Once the battery of my torch had run out, I lit a candle. I lost any notion of time. When at last the first sun rays penetrated through the dense canopy and a soft breeze from the Pacific Ocean scattered the morning haze, I had been living 50 years in the company of Florentino and Fermina. It is a night that I will always remember, for I had felt the beauty and power of literature. Tribute goes to the man who passed away yesterday at his home in Mexico City. Thank you, Gabriel Garci­a Marquez.
Graeme Outerbridge, Bermuda
When I think of Gabriel Garcia Marquez, I see love, magic red dust and the endless stories of the passions of South America. He lived like he wrote, a true individual caught in the exciting mix of lives and stories. Above all the triumph of love in all its forms set among the harsh tragedies that fall on us as tall waves of grief.
Usha Neelakandan, New Delhi, India
Gabo dazzled the world with his intense and honest emotions, and will continue to mesmerise us, notwithstanding differences in cultures and languages; the greatest storyteller of our time.