Bolivia files at UN court its claim over Chilean sea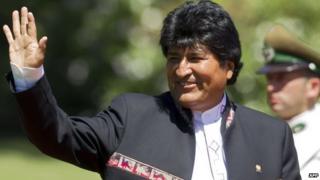 President Evo Morales of Bolivia has submitted legal documents to the United Nations' highest court in support of his country's claim to regain access to the sea from Chile.
Mr Morales personally handed over the 200-page dossier, and said Bolivians would "never give up" their sea claim.
The International Court of Justice in The Hague could take years to issue its ruling, which will be binding.
Landlocked Bolivia lost access to the sea in a war won by Chile in 1883.
President Morales said he hoped the UN court would side with his country.
"As a peaceful country, we have gone to international courts to ask for justice over a historical claim," he told a news conference in The Hague.
"Bolivia is very confident and hopeful in [the decisions taken by] the International Court of Justice. We trust that Bolivia will soon have sovereignty again in the Pacific."
'Restart dialogue'
Last year, Bolivia asked the UN court to order Chile to negotiate over at least part of the 400-km (240-mile) strip of Pacific Coast that it lost in the war.
Chile argues the border between the two neighbours was fixed by a treaty they both signed in 1904.
Chilean President Michelle Bachelet said they were confident that they had the legal arguments on their side.
"We are very clear that we respect international treaties... but we are going to first analyse the Bolivian case in order to decide how we proceed," she told Chilean Cooperativa TV.
President Morales reiterated he remained open to talks with Chile over the issue.
"I have a lot of hope that we can restart the dialogue", he said.
Much of Bolivia's trade passes through Chilean ports.
Both countries have maintained only consular relations since 1978.