Nicaragua on maximum alert after series of quakes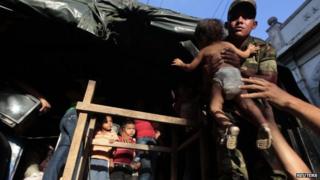 The authorities in Nicaragua have put the entire country on an "extreme red alert", the highest possible, after the country was hit by a series of tremors.
Nicaraguans were asked to sleep outdoors as seismologists warned of the possibility of a powerful earthquake rocking the Central American country.
Officials said the recent tremors had reactivated a fault which caused a devastating earthquake in 1972.
Between 5,000 and 10,000 people were killed in the disaster.
'Major catastrophe'
First Lady and government spokeswoman Rosario Murillo told citizens "we have to live on constant alert". She also urged people to sleep under open skies until further notice.
The government agency in charge of disaster preparedness, Sinapred, said it was getting ready for a "catastrophe of major proportions".
Soldiers have been erecting field hospitals and the Red Cross urged people to donate blood to replenish the country's blood banks.
Some people considered to be at high risk either because of their age or because they live in houses at risk of crumbling have been moved to shelters.
Past memories
Much of Managua was destroyed in the 1972 quake and many families continue to live in buildings damaged then.
"These are residents who have been here for many years in these buildings that are in ruins [and] have been dilapidated since the the 1972 earthquake" Lt Col Mario Rivas of the Civil Defence Force told the Associated Press news agency.
In the past week, Nicaragua was hit by three quakes of magnitudes ranging between 5.1 and 6.7, as well as dozens of aftershocks.
Two people have died and dozens been injured.
Managua resident Daniela Artola, 56, said her family was jumpy. "We're scared, more than anything because of the memories of the past," she said.
"The worst is the wind in the night; every gust puts us on alert again, because it breaks the silence."
The US Geological Survey, which monitors seismic activity around the world, said it could not confirm whether the fault line running underneath Managua had been reactivated, but said it was not unusual for quakes to affect nearby faults.
Are you in the area ? You can email your experiences to haveyoursay@bbc.co.uk with the subject heading 'Nicaragua quakes'.