World Cup fever heats up slowly in Brazil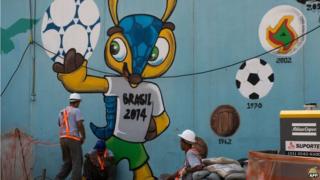 The World Cup in Brazil is almost upon us, but in South America's largest country, at least for the moment, the signs are not that obvious.
Two months before the tournament kicks off, it seems Brazilians are biding their time before engaging with this major event which has put their country in the international spotlight.
Protests over the last year have showed that many here are sceptical about the long-term benefits of such a costly event when hospitals, schools and roads are often poorly funded.
However, past experience suggests the country will grind to a halt as national pride boosts already high levels of passionate support for the game.
Football enthusiasts insist when the first whistle blows, the excitement will take over.
Low opinion polls
"The Confederations Cup (in 2013) has shown what Brazilians will do this year," former Brazilian coach and World Cup winner Zagallo recently said.
"I have no doubt that we'll make the greatest World Cup ever in 2014."
However, a poll released earlier this week by local Folha de Sao Paulo newspaper suggests support for the World Cup in Brazil has dropped to an all-time low at 48%.
In 2008, a year after the country was confirmed as a host, that figure was at 79%.
It seems to indicate a high level of disillusionment, although earlier polls showed support for protests against the tournament had fallen as well.
One factor behind the discontent may be the soaring price of the 12 stadiums, currently at more than R$8 billion ($3.6 billion), largely financed by public money.
By some estimates it has increased threefold since Brazil won the rights to the event.
The arena in Sao Paulo, the country's largest city, is not yet ready even though it is the venue for the opening match between Brazil and Croatia on 12 June.
Work there was temporarily halted in March following the death of a construction employee, the eighth fatality since the construction of World Cup venues began.
Seven workers have died in accidents and one of a heart attack.
Analysts also warn that at least four of the stadiums risk becoming "white elephants" once the party is over, an argument the Brazilian authorities dispute.
They say the stadiums are multi-purpose spaces built in neglected regions which can be used for concerts and conferences, as well as games.
Empty promises
In some World Cup cities much needed airport renovations will not be ready as initially planned, despite promises made when Brazil was chosen as host.
Other "legacy" infrastructure plans have been either been postponed or cancelled.
"In 2007, when Brazil was chosen, it was announced that no public money would be spent on stadiums, everything would come from the private sector and there would be a legacy," said Pedro Daniel, a Sao Paulo-based sports consultant at BDO auditing firm.
"In the end, the promised infrastructure won't be either delivered or totally ready. That's the main reason why the population is against it," he said.
On the streets of Sao Paulo, opinion among Brazilians is divided.
"Preparations are business as usual. Brazil doesn't know how to make projects and deliver them as promised," says 24 year-old Evandro Rios, an investment analyst.
"With the World Cup it won't be different. All of the money could have been better spent."
But Brazil is seen as a country whose passion for football has no match.
Green and yellow flags and products are starting to fill shop windows and excitement is expected to grow as the competition gets closer and foreign teams arrive.
"Brazilians will forget all of the problems once it all starts," says 23-year-old Caio Lopes.
Certainly the Brazilian authorities are betting on a shift in public mood.
President Dilma Rousseff, whose approval ratings have fallen again in recent weeks, has labelled it as "the cup of all cups".
Brazil's Sports Minister Aldo Rebelo has recently recognised that preparations "could have been better". However, he has repeatedly pointed to the benefits of hosting the event, such as job creation and worldwide exposure.
"Football is part of Brazilian national identity," Mr Rebelo told the BBC by email.
"The arrival of the teams and the start of the games will create a party mood in the country."
A big test of popular excitement will be on 7 May when coach Luiz Felipe Scolari will announce the Brazilian squad.
That's when many locals may start getting more involved in another local tradition - criticising the players on the pitch rather than the problems off it.