Venezuela's Maduro and opposition in landmark crisis talks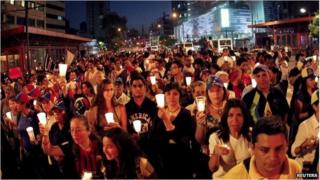 Venezuelan President Nicolas Maduro has met opposition leaders in crisis talks aimed at quelling weeks of protests.
Mr Maduro met his bitter rival, opposition leader Henrique Capriles, for six hours. More talks are scheduled for Tuesday.
The meeting was brokered by foreign ministers from South American nations.
Protests erupted over soaring crime rates in February, but have snowballed into wider anti-government rallies. Some 40 people have been killed.
Mr Maduro, who says the protests are part of a "fascist" US-backed plot against him, told the meeting that there would be no deal with the opposition.
"There are no negotiations here. No pacts. All we're looking for is a model of peaceful coexistence, of mutual tolerance," he said.
He has said any kind of formal deal with the opposition would make him a "traitor to chavismo", the socialist platform of his predecessor Hugo Chavez.
Mr Maduro called on the opposition to renounce violence.
'Builders of peace'
Mr Capriles, who was narrowly defeated in last year's presidential election, insisted that the opposition did not want a coup against the government.
"We don't want a coup d'etat. We don't want an explosion on the streets," he said.
"Either this situation changes, or it bursts. I hope it changes because I don't want violence."
Mr Capriles also accused Mr Maduro of being disrespectful to the Venezuelan people.
"How are you going to ask the country to accept you if you call half the country fascists or you threaten them?" he asked. "I think it is very difficult to govern a country where half the people are against you."
The talks were broadcast live on television.
Pope Francis sent a letter giving his support to the talks.
"I urge you not to get stuck in the conflict of the moment but open yourselves to one another to become true builders of peace," the Roman Catholic leader said, in a letter read out at the meeting.
Venezuela is sharply divided between supporters and opponents of Mr Maduro, who narrowly beat Mr Capriles to the presidency last year.
The oil-rich country's economy has hit the buffers in recent years, with food shortages and rising inflation causing increasing dissent.