Rio 2016 organisers say they will deliver 'great Games' despite criticism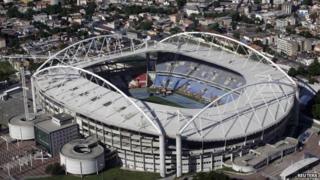 The organisers of the 2016 Olympic Games in Rio de Janeiro have responded to international criticism about delays in building new venues, saying they will deliver "great Games".
In a statement, they acknowledged there were issues to be resolved.
But they said progress had been made "in the last two weeks".
On Tuesday, sports federations taking part in the first Olympics in South America criticised the Rio organisers for the slow pace of construction work.
At a news conference in Belek, Turkey, the Association of Summer Olympic International Federations (ASOIF) accused Rio of not delivering on its promises.
"Words are not enough," Francesco Ricci Bitti, the head of ASOIF, told its members.
"The general feeling is that we are in the most critical situation in the preparation for the Games that has happened in the last 20 years at least," he said on behalf of the 28 sports to take part in Rio.
The federations asked for contingency plans for many venues where work had yet to begin or was severely delayed.
But the Rio organisers tried to reassured the ASOIF that the city would be ready for the Games, saying that they had "taken their concerns on board".
"We are fully aware of the issues that need to be resolved," they said. "There is absolutely no question in our minds that Rio will deliver great Games."
Strike
The greatest worries have centred on Deodoro, a complex in north Rio that is to host venues for eight sports, including rugby, basketball and field hockey.
Work there has not started and is well behind its initial construction dates.
The Olympic golf course is also facing problems, and workers went on strike on Monday at the Olympic stadium that will be used for track and field. It was closed last year for repair works on its roof.
Rio will become the first South American city to host the Olympics.
In June and July, Brazil will also be hosting the football's World Cup in 12 cities, including Rio.
A few of the 12 arenas are still unfinished, and the government has admitted that some airports and public transportation projects will not be ready in time for the football tournament.