Brazil worker killed in World Cup stadium fall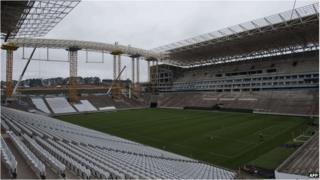 A Brazilian construction worker has died after falling 25ft (8m) at the Sao Paulo stadium where the football World Cup is due to start on 12 June.
The man suffered fatal injuries when he fell from a stand while installing temporary seats at the Sao Paulo Arena.
His death is the third fatality at the new stadium. In November, two workers were killed when a crane collapsed.
Brazil's preparations for the World Cup have been marred by accidents and missed deadlines.
A total of eight men have already died working in World Cup stadiums.
Jerome Valcke, head of football governing body Fifa, said on Twitter: "Deeply saddened by the tragic loss of a worker at Arena Sao Paulo today. My thoughts and condolences are with his family and colleagues."
'Time flying'
Last week, the Fifa official said there was still work to do at the stadium and added that time was "flying".
Worker Fabio Hamilton da Cruz had been working on the installation of seats on the south side of the Sao Paulo stadium when he fell.
In a statement, the firm Fast Engenharia, that had hired Mr Cruz' employers, WDS Construcoes, said he was still alive when taken to a hospital.
But he died from his injuries hours later.
In February, a Portuguese man was hit by a crane part and died while working at the Arena Amazonia, in Manaus.
He became the fourth person to die in the north Brazilian stadium where England and Italy will start their World Cup campaign.
Another man died in the Mane Garrincha stadium, in the Brazilian capital, Brasilia, in 2012.
In the preparations for the previous World Cup, in South Africa, two workers died.