Cuba approves foreign investment law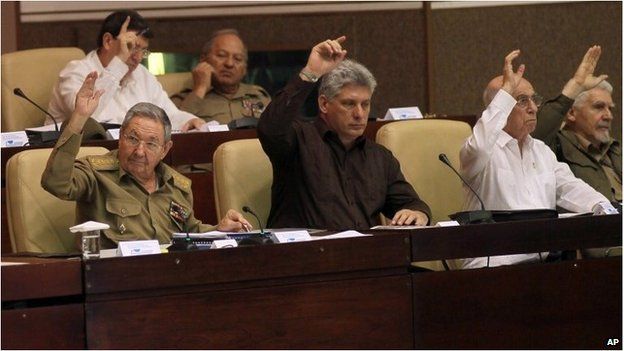 Cuba's National Assembly has unanimously approved a bill aimed at making the Communist-run island more attractive to foreign investors.
The law slashes taxes on profits from 30% to 15% and gives new investors eight years of exemption from paying taxes.
The change is seen as a key part of President Raul Castro's reform package, aiming to modernise Cuba's economy.
The government in Havana opened the island to foreign capital in 1995.
But in recent years, Cuba has seen a fall in foreign investment and moderate economic growth. The economy grew by 2.7% in 2013, well below the government's 7% target.
Cuba's economy is seen as highly centralised and inefficient, but almost 500,000 Cubans now have licences to operate small, private businesses.
Presenting the law at a special televised session of the assembly, ministers were at pains to stress that the government was not "selling" the country but taking steps to ensure its prosperity as a socialist state, the BBC's Sarah Rainsford reports from Havana.
The text of the bill has not yet been released but is expected to introduce several incentives to investment when it comes into force in three months' time.
Investors will be lured into joint ventures with the state and Cuban companies
The process of approving foreign investment will be speeded up
Legal protection will aim to re-inforce investors' confidence in the Communist government
Taxes will be cut to 15% on profits in most areas, although special conditions will be set for investment in natural resources
Tax on nickel and fossil fuel investment could be as high as 50%
The reform is not expected to attract investment from the large Cuban community in the US, under the 50 year-old US economic embargo.