Porto Alegre confirmed as Brazil World Cup host city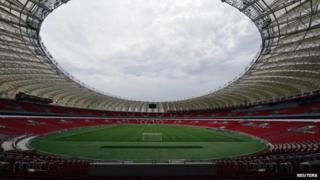 Legislators in Brazil have removed the threat of having the southern city of Porto Alegre excluded from the football World Cup in June and July.
Private companies will be given tax breaks to build media facilities and other temporary structures next to the Beira-Rio stadium.
The legislation was passed by the Rio Grande do Sul state assembly.
Porto Alegre Mayor Jose Fortunati had said that the city would have to drop out unless the measure was approved.
On Sunday, Mr Fortunati told a local station that "there was no plan B" to find much-needed extra funding.
Brazilian law bans the use of public money to finance structures that will not leave a legacy for the event's host cities.
On Tuesday night, state legislators passed the new legislation by 31 votes to 19. The tax exemptions are worth up to 25m reais (£6.5m; $10.8m).
'Huge mistake'
Left-wing state governor Tarso Genro has said that from a social perspective, Brazil's decision to host the event had been "a huge mistake".
"If I wasn't governor, I would also be protesting against the mistakes in the organisation of the World Cup," said Mr Genro.
The Beira-Rio stadium was reopened a month ago, but it still needs temporary structures to house the media, sponsors and other requirements from the world football governing body, Fifa.
The stadium owners - top division football club Internacional - had refused to pay for the temporary structures.
They argued that the club had spent enough money in extensive refurbishment work in the stadium and a nearby sports hall that will be used during the World Cup.
Five matches are scheduled for the stadium. France, the Netherlands and Argentina are among the main teams playing there.
Less than three months before the World Cup begins, three of the venues are still under construction.
Fifa's main concern is the Arena Corinthians - or Itaquerao - in Sao Paulo, where Brazil and Croatia are due to play the event's inaugural match on 12 June. It is expected to be ready on 15 April.
The other two unfinished stadiums are the Arena da Baixada, in Curitiba, and the Arena Pantanal, in Cuiaba.