Bogota mayor Gustavo Petro removed by president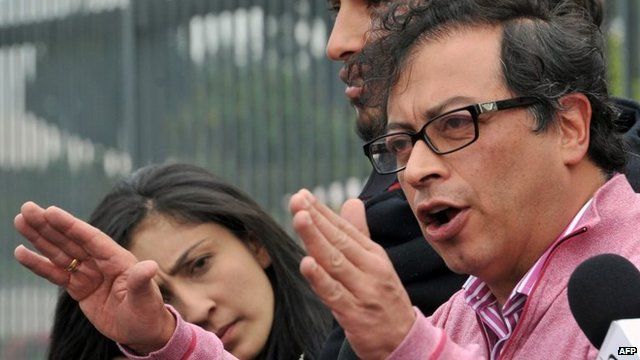 Colombia's President Juan Manuel Santos has removed the mayor of Bogota and leading leftist, Gustavo Petro, despite a call by an international court to suspend the decision.
On Tuesday, the Inter-American Commission on Human Rights ruled that the sacking violated his rights.
But the Colombian president said Mr Petro had been given every opportunity to defend himself.
He replaced him with an interim mayor, the Labour Minister Rafael Pardo.
Mr Petro was ousted by Colombia's inspector-general in December, and banned from holding public office for 15 years, over the alleged mismanagement of the rubbish collection service in the capital.
He appealed against the decision, saying it was politically motivated.
But on Tuesday, Colombia's Supreme Court, the highest in the country, dismissed various legal challenges to his removal, saying the matter was in the hands of the president and ready to be enacted.
Hours later, however, the Washington-based IACHR ruled that Colombia's inspector-general violated the region's human rights charter, and insisted the leftist former guerrilla be allowed to serve out his term.
But despite the IACHR ruling, the Colombian president sacked Mr Petro for good, saying his government did "not accept the injunction request".
"The government of Colombia understands the importance (...) of the inter-American system of human rights," Mr Santos said in a televised message.
"It considers, however, that the role of such system is complementary and alternative, and should be enacted when the internal system does not work or when there is an error," he said.
He added that the Colombian justice system had acted in a "transparent, efficient and appropriate" way.
Reacting to the presidential decree, Mr Petro called the decision "a coup".
"Those who govern this country have no moral or virtual capacity to do so. They are incompetent," he told hundreds of supporters outside the mayor's office in Bogota, calling on them to go back to protest on the streets.
Tens of thousands of people demonstrated in the capital after his removal from office in December.
The Colombian inspector-general said Mr Petro had violated the principles of the free market and endangered people's health with a series of changes to the rubbish collection system.
In 2012, rubbish was left uncollected in Bogota for several days due to failures in the system.
As an opposition senator, Mr Petro was a key player in uncovering a 2006 scandal that linked many politicians to far-right militias.
His term as mayor was supposed to end in 2016.
Related Internet Links
The BBC is not responsible for the content of external sites.