HidroAysen: Chile to review biggest energy project plan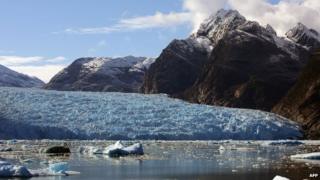 Chile's new government has said it will review plans for its biggest energy project amid environmental concerns.
It said it would decide on the future of the HidroAysen project within 60 days.
Environmentalists say the huge project, which would dam rivers in a remote region of Patagonia in Chile's far south, would ruin an area known for its wild beauty.
President Michelle Bachelet previously said the project was "not viable".
Chile is short of energy but correspondents say most Chileans oppose the hydropower project, a joint venture by Spanish-owned energy company Endesa and Chile's Colbun.
Its future has been uncertain for months, with environmentalists staging protests against the project and businesses looking to it as a fix for the country's power needs.
Five dams
The government said it will allow all parties involved, including the local communities, to make their arguments in favour or against the plans before issuing a final decision.
"Within the legal period of 60 days, the Cabinet of Ministers will decide on the merits of the matters that have been challenged, in a comprehensive way and in accordance with the law," Environment Minister Pablo Badenier told a news conference in the Chilean capital, Santiago.
In January, a ministerial committee requested additional studies on how the project could affect the volume of water in the rivers and a nearby glacier.
It involves flooding about 6,000 hectares (15,000 acres) of land by building five dams on two fast-flowing rivers that run into the Pacific - two on the river Baker, and three on the river Pascua.
Chile's Supreme Court ruled in favour of the project in 2012, rejecting an appeal by environmental groups.
But new Energy Minister Maximo Pacheco called on the discussions about Chile's energy not to be centred on HidroAysen alone.
"The country knows that this is (just) one project; we have to understand that we have many others," he said.