Brazil: Rio rubbish collectors to end carnival strike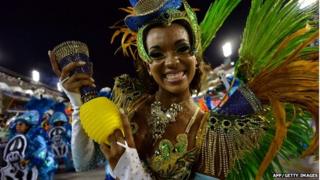 Authorities in the Brazilian city of Rio de Janeiro say they have reached an agreement with rubbish collectors to end a three-day strike that has disrupted the carnival festivities.
Tonnes of used beer cans and plastic bottles have piled up on the streets of Rio since the strike began on Friday.
The salaries of Rio's 15,000 rubbish collectors would go up by 9%.
The street parties and the samba school parades attract hundreds of thousands of tourists every year.
The city of Rio's rubbish collecting department, Comlurb, said its members would meet later on Tuesday to discuss the proposal.
Under the deal, the starting salary for rubbish collectors in Rio would rise to 1,200 reais a month ($500; £300).
In a statement, Comlurb said that those who did not return to work immediately would lose their jobs.
The official carnival festivities began on Friday night and end on Wednesday morning, or Ash Wednesday.
Rubbish collectors have staged well-humoured protests during carnival.
"Mayor Eduardo Paes will have to sweep the streets," they sang in one of the demonstrations.
Dressed in their bright orange uniforms, Comlurb cleaners have become a feature of the city's carnival.
Every year, they are seen sweeping the floor and often dancing to the rhythm of the music, as each of the samba schools finish their parade at the Sambadrome.
But their absence has been felt mostly in the dozens of street parties - or blocos - that take place across the city.
The biggest of them, hosted by the traditional Cordao do Bola Preta, attracted more than one million people to Rio's city centre.