John Kerry urges mediation in Venezuela crisis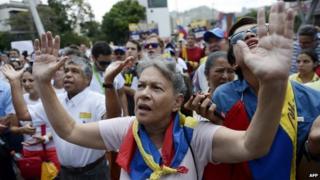 US Secretary of State John Kerry says he is working with Colombia and other countries to form a mediation strategy for Venezuela's political crisis.
Mr Kerry said it would be "very difficult" for the two sides to come to an agreement without assistance.
The government and opposition accuse each other of not being open to dialogue.
Disgruntled students began protesting more than two weeks ago, leading to unrest that has killed 17 people.
Venezuelan authorities say 27 cases of rights abuses during the protests are being investigated.
Student leaders say a fresh mass march will take place on Sunday, despite the start of the Carnival holidays.
'Arrests and persecution'
They demand the freeing of protesters detained during the anti-government demonstrations.
Earlier this week, President Nicolas Maduro declared an early start to the week-long public holiday in an attempt to end the unrest.
But in some regions, particularly districts in Caracas, anti-government demonstrations have been happening every day.
After meeting the Colombian Foreign minister, Maria Angela Holguin, in Washington, Mr Kerry said the way forward for Venezuela was through "dialogue" not "arrests, violence in the streets" and "persecution against young people".
"We are working closely with Colombia and other countries to try to see how some kind of mediation might be able to take place," Mr Kerry told reporters.
"Because it's obviously already proven very difficult for the two sides to bring themselves together by themselves."
Meanwhile, the US Congress is examining whether to impose sanctions on Venezuela over its handling of the protests.
Venezuelans have been complaining about high levels of crime, record inflation and shortages of staple items.
But the protests gained momentum in the last two weeks with student-led marches in the western states of Tachira and Merida that quickly spread to other areas.
Many other regions have been completely unaffected by the demonstrations.
Earlier this week, Mr Maduro held a "national peace conference" without the participation of the opposition.
He also put the figure of protest-related deaths at more than 50.