Antonio Cermeno: Venezuelan ex-boxing champion killed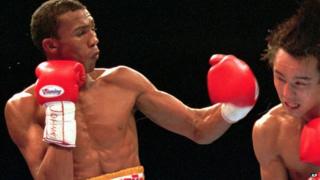 A former boxing world champion from Venezuela has been killed after being kidnapped earlier this week, Venezuelan officials confirm.
The body of Antonio Cermeno, 44, was discovered on Tuesday with gunshot wounds on a roadside in the state of Miranda, police said.
He had been abducted from the capital, Caracas, on Monday evening.
The murder comes as the nation is gripped by a wave of anti-government protests over its high crime rates.
Venezuela has the fifth highest murder rate in the world, and insecurity and crime are rife in many urban centres.
High-profile killings
Police said Mr Cermeno had been kidnapped with a number of relatives near the La Urbina neighbourhood in the east of the capital.
His family members managed to escape while the abductors were refuelling their car, police spokesman Eliseo Guzman said.
Mr Cermeno, nicknamed El Coloso (The Colossus), won bantamweight and featherweight world titles in the 1990s. He retired from the sport in 2006.
His death is the latest in a series of high-profile killings.
In January, gunmen shot the former Miss Venezuela Monica Spear and her British husband in their car as they were travelling from the city of Merida to Caracas.
Observers say Mr Cermeno's murder is likely to antagonise anti-government protesters further.
The demonstrations began early this month, when students in the western states of Tachira and Merida took to the streets demanding increased security.
They also complained about record inflation and shortages of basic food items.
The rallies, which turned violent after the arrests of several protest leaders, have since spread to Caracas.