Clarin break-up plan passed under Argentine media law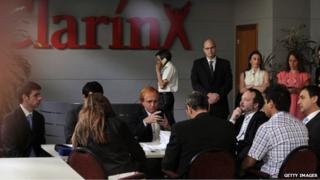 Regulators in Argentina have approved a plan to break up the country's biggest independent media group into six parts.
The Clarin conglomerate has to be reduced because of a controversial anti-monopoly bill passed by President Cristina Fernandez de Kirchner.
TV, radio and other Clarin licences are to be redistributed in six months.
Critics call it an attempt to silence dissident voices in the country but supporters say it will boost pluralism and reduce the power of big companies.
The approved plan had been presented by Clarin to prevent the government from imposing a break up of the group.
But the group criticised the speedy approval of plans.
'Selective use'
Plans to reduce the size of other media companies are still being examined, even though they were presented a year ago.
"The government's goal is to make selective use of the law, benefitting those who were in line with the official voice and punishing those who criticised the administration," Clarin said.
The company has to find buyers for each of the six parts and submit them for government approval.
The final plan should be presented within 180 days, followed by the complete break-up of all the different audiovisual broadcasting licences currently owned by Clarin.
"It's the start of the end of hegemonic media market positions which caused so much harm to the plurality of voices and freedom of speech," Martin Sabbatella, the director of Argentina's media broadcast regulator told reporters.
Argentina's Supreme Court ruled last August that a media bill passed in 2009 was constitutional.
Clarin had appealed against the law proposed by President Fernandez de Kirchner.
Clarin has been involved in an open dispute against her government since 2008.
The 2009 law stipulates that any one owner can hold a maximum of 24 audiovisual licences.
It also bans TV networks from amassing more than 35% of the nation's viewers, and makes the sale of broadcast licences subject to government approval.