Samba school honours Formula 1 legend Ayrton Senna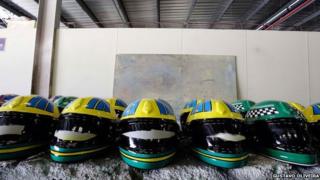 In the baking heat of the Brazilian summer sun, rows of gleaming racing helmets line up in a four-storey warehouse.
Dozens of workers are putting the finishing touches to model cars, tyres and a petrol station.
And upstairs, seamstresses stitch racing suits with a word that all Brazilians recognise: Senna.
As the 20th anniversary of the death of the late Formula 1 champion Ayrton Senna approaches, one samba school is preparing to mark the occasion in Brazilian style.
Unidos da Tijuca, in Rio de Janeiro, has chosen the three-time World Champion as its theme for this year's carnival parade.
Devastating death
The school, one of the top performing groups in the city, will pay tribute to the legend, whose death on the track at the San Marino Grand Prix in 1994 devastated Brazil and the racing world.
At the Cidade do Samba - or Samba City - where all samba schools create their floats and follies, preparations for the spectacle to turn the solemn anniversary into a celebration are well under way.
From the golden trophies, replicas of the F1 trophies lifted by Senna, to models of the fastest animals on land, everything is inspired by "velocidade" or speed, the most famous quality of the Brazilian racing driver.
"We're going to use one line, which is velocidade. It's everything that's associated with speed, and the king of speed is Ayrton Senna," explains Bruno Tenorio, marketing manager for Unidos da Tijuca.
"We're going to use all kinds of categories of things associated with speed: internet, animals, technology, trains."
Brazilian hero
Senna, who suffered fatal head injuries in a 305 km/h (190 mph) crash on 1 May 1994, had an impressive record of 161 Grand Prix starts and 41 victories when he died.
Feted for his speed and famous for his fastest laps, he started his career in England in Formula Ford in the early 80s before progressing to Formula 1.
Senna's success made him a Brazilian hero at a time of domestic economic hardship.
But despite his rise to fame, he remained acutely aware of the social inequality that blighted his country.
Enduring legacy
After his death, his sister Viviane established the Instituto Ayrton Senna to promote educational programmes in his memory.
Mr Tenorio says that is what Unidos da Tijuca will be celebrating.
"It's 20 years of his legacy. During the 80s and 90s, there was a big economic depression. Everything was very bad here but suddenly, we had one guy who was the number one in a very elite sport in rich countries," he explains.
"It was very important for the self-confidence of Brazilians," Mr Tenorio adds.
The institute and the Senna family have been closely involved in the preparations for the carnival tribute, and have visited Samba City where 300 workers are turning the vision into a reality.
Elements of the parade incorporate cartoon characters and allegories, but Senna's image beams down from one of the floats in the middle of the warehouse, a constant reminder of the inspiration for the performance.
Company secret
The designs for the myriad costumes for the 4,000 dancers and drummers are a closely guarded secret in an industry that is as cut-throat as it is colourful.
With 82 minutes to parade down the purpose-built avenue of the Sambodromo, Unidos da Tijuca will be harnessing Senna's confidence and competitiveness during carnival, which takes place at the end of February.
The school will be judged against 11 others in the top league on its percussion section, its costumes and floats, and its samba song composed especially for the occasion.
And it will also be marked on its choice of theme.
'To win'
Given that two of the biggest sporting events are due to take place in Brazil - the 2014 World Cup and the Rio 2016 Olympics - it might seem tempting to feature them in carnival.
But none of the top division samba schools are incorporating either event.
"Two cliches together don't work. They're two different events," Mr Tenorio says.
"We create a concept, a cultural concept, but we don't feature brands."
Instead, Unidos da Tijuca has chosen a very Brazilian hero.
Rather than calling him by his full name - Senna da Silva - commentators dubbed the Formula One star Senna do Brasil.
It is a name Unidos da Tijuca hope to live up to this carnival, and which will feature prominently in the samba school's specially composed song:
"Accelerate Tijuca, I'm with you/Our motto is to win/Guiding the future that a dream built/Ayrton Senna of Brazil".