Suspect in Brazil cameraman Santiago Andrade's death held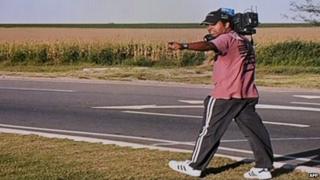 Police in Brazil have arrested the main suspect in the death of Brazilian television cameraman Santiago Andrade.
Mr Andrade was fatally injured when a flare exploded next to his head during clashes between police and protesters in Rio de Janeiro on Thursday.
Doctors declared Mr Andrade brain dead on Monday and his employer has since said that he died shortly afterwards.
The suspect is accused of throwing the flare which hit Mr Andrade. He is the second man to be arrested in the case.
'Fugitive'
Caio Silva de Souza, 23, was detained in the northern state of Bahia.
Police say he is the man who can be seen on TV footage throwing the flare which caused Mr Andrade's death.
They had been searching for Mr Silva de Souza since he failed to follow a police order to turn himself in.
Officers found him at a hostel in Feira de Santana, some 100km (60 miles) from the city of Salvador, in the north of the country.
He is being taken to Rio de Janeiro, where he could face murder charges.
Another man is already in custody for allegedly handing the flare to Mr Silva de Souza.
'Revulsion'
The case has prompted angry reactions in Brazil, with President Dilma Rousseff saying it had caused "revulsion and was saddening".
Mr Andrade was in a coma for four days before doctors said he was brain dead.
His employer, TV network Bandeirantes, announced on Tuesday that he had died a short time later and that his family had donated some of his organs.
Hundreds of protesters clashed with police during the rally against increased public transport fares last Thursday.
The protests followed an announcement by Rio Mayor Eduardo Paes of a 9% rise in fares.
The demonstration started off peacefully but turned violent after protesters moved to Central Station, a major underground, train and bus hub.
Riot police fired tear gas and tried to disperse the crowd while demonstrators hurled stones and petrol bombs.
Commuters were caught up in the violence, and local media reported six other people were injured.
Last year, similar protests grew into a nationwide movement against corruption and excessive spending ahead of the football World Cup, which Brazil will host in June and July.