Armadillos: Brazil plan to save World Cup mascot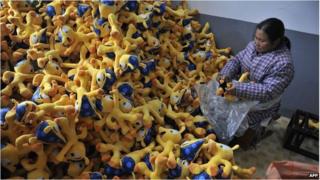 Brazil says it will present concrete plans to save the three-banded armadillo, the mascot of the football World Cup, by the end of the year.
A cartoon character inspired by the creature has starred on T-shirts and other merchandise for nearly two years.
But the environmentalist who suggested the mascot says very little of the profit has been used for conservation.
Experts say loss of habitat and hunting could lead to the extinction of the three-banded armadillo within 50 years.
Three-banded armadillos live mainly in Brazil's arid north-eastern Caatinga region.
They are unusual among armadillos in that they can roll up into a ball to defend themselves from predators.
Two years ago, biologist Rodrigo Castro, who runs the Caatinga Association for conservation, thought they would make the perfect World Cup mascot.
Fifa Secretary General Jerome Valcke seemed to agree and the three-banded armadillo became the 2014 World Cup mascot.
"One of the key objectives is to use the event as a platform to communicate the importance of the environment and ecology. We are glad to be able to do so with the help of a mascot," Mr Valcke said.
But two years on, Mr Castro says he's yet to see any revenue generated by Fuleco, a cartoon version of the endangered creature.
"More Brazilians are aware of the animal than before, but it hasn't resulted in more funds to help save it," Rodrigo Castro told the Associated Press news agency.
Now the Brazilian Environment ministry says it will develop a strategy to protect the armadillo's habitat and to educate people about the risk of its extinction if they keep on hunting.