Guatemala ex-soldier sentenced to 10 years by US court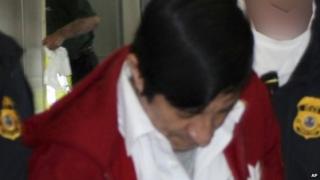 An ex-soldier from Guatemala has been sentenced by a United States court to 10 years in jail for having lied about his role in a killing in 1982.
Jorge Vinicio Sosa Orantes, 55, was also stripped of his US citizenship.
He had been arrested in Canada in 2011, after having fled the US the year before.
More than 200 people were killed in the Dos Erres massacre, one of the bloodiest episodes of Guatemala's 36-year-long civil war.
Sosa was found guilty of having omitted to mention his role in the Guatemalan army on his citizenship application papers.
The former soldier was part of the elite unit known as the Kaibiles, which stormed a village because it suspected residents of supporting or sheltering left-wing guerrillas.
Five convictions
Over three days, the soldiers systematically killed hundreds of men, women and children, shooting or bludgeoning them to death and throwing bodies down a well.
In 2012, a court in Guatemala sentenced another former soldier to 6,060 years in prison for his role in the massacre.
Pedro Pimentel Rios, 55, had been extradited from the US and became the fifth former soldier to be convicted for Dos Erres killings.
The killing happened during the regime of Gen Efrain Rios Montt.
Last year, a court decided Gen Rios Montt, 87, should face a fresh trial for genocide and crimes against humanity in 2015.
Between 1982 and 1983, some of the country's worst civil war atrocities took place, such as the massacre of whole villages of indigenous Maya.
An estimated 200,000 people died in the conflict which ended in 1996.
Gen Rios Montt was convicted of genocide and war crimes in May 2013 and sentenced to 80 years in jail.
But the conviction was overturned by the constitutional court, which argued Gen Rios Montt had been denied due process.