Mexico police arrest 'major drug lord' wanted in US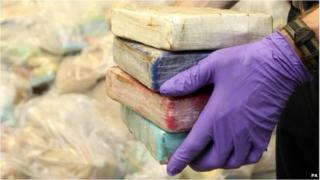 Police in Mexico say they have arrested a major drug lord in the central state of Guanajuato.
Tirso Martinez Sanchez specialised in importing, transporting and distributing drugs for several criminal gangs, authorities said.
The US State Department had offered a $5m (£3m) reward for his capture.
Mr Martinez Sanchez is accused of having smuggled 76 tonnes of cocaine from Colombia into the United States between 2000 and 2003.
Investigators say he had links to various international groups due to his close relationships with Mexican drug lords Amado Carrillo Fuentes, Arturo Beltran Leyva and the Colombian brothers Victor and Miguel Mejia Munera.
The man is reportedly also wanted by Colombian authorities for his alleged links to Juan Carlos Ramirez Abadia and Diego Leon Montoya Sanchez, arrested in 2007 under the accusation of having laundered "more than $10m (£6m)".
The US State Department says Mr Martinez Sanchez's organisation used "a network of large warehouses to store and distribute cocaine in Mexico and the United States".
It also says the group used cover companies to import legitimate goods with drugs hidden in them.
The US authorities say the cocaine was smuggled by "ocean vessels, tractor-trailers, and railroad tanker cars".