Brazil: Man arrested over Rio protest bomb injury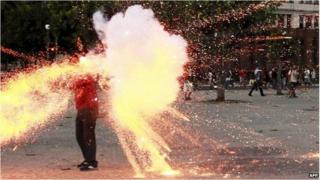 Police in Rio de Janeiro have arrested a man in connection with an explosion during a protest on Thursday, which seriously injured a journalist.
The man reportedly told investigators he found an explosive device on the floor but another person set it off.
Hundreds of people in Brazil clashed with police during a protest against increased fares for public transport.
Riot police fired tear gas and tried to disperse the crowd, while activists hurled stones and bombs.
The BBC's Wyre Davies was at the scene and was one of the first to try to save cameraman Santiago Andrade who suffered serious head injuries and is still fighting for his life in a Rio hospital.
Investigators are trying to get the detained man - named as Fabio Raposo - to identify the protester who allegedly set off the explosive device, police said.
But the man told the Brazilian media he did not know the man.
Last year, similar protests grew into a nationwide movement against corruption and excessive spending ahead of the football World Cup, which Brazil will host in June and July.