Julia Marino becomes Paraguay's first Winter Olympian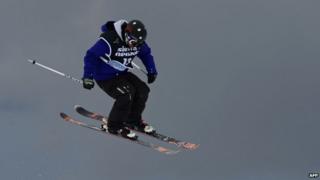 Paraguay is not a country known for its cold climate.
It has no snow, temperatures can come close to 50C in summer and rarely fall below 20C in winter.
That is why for many in this country it has come as a surprise that a young skier is set to become the first Paraguayan to compete at a Winter Olympics, this Friday in Sochi.
Childhood dream
Julia Marino, 21, was born in the small town of Bahia Negra in the Chaco region of Paraguay, one of the hottest places on Earth.
"When I was eight months old I was adopted by my parents, who are American. I was raised in Winchester, Massachusetts, where I learned to ski," she tells BBC Mundo.
Marino always kept both nationalities, even though she did not maintain close ties with her country of birth. She did not travel to Paraguay, nor did she learn Spanish.
But last March, something happened that made her change her mind.
Marino, who has been skiing since she was an infant and been dreaming about competing in the Olympics since she was 13, earned a start in the final of the International Ski Federation World Cup slopestyle contest in Sierra Nevada, Spain.
Slopestyle skiing consists of a downhill course with obstacles including jumps and rails, similar to those used in skateboarding, which competitors use to perform tricks.
Skiers are judged on their overall impression, including the amplitude of their jumps and creativity.
Marino came second, making her eligible for the 2014 Olympics in Sochi.
Unique opportunity
This achievement pushed her to make a drastic choice.
"I had good chances to go with the United States team, but I thought that this was an opportunity to be seen by the world at a global stage.
"So I thought it would be a perfect way of giving back something to the country where I was born," she explains.
But the move took time. First, Marino made contact with the Paraguayan Olympic authorities to tell them of her plan.
"It took several months of email exchanges with them to get the change done and the proper documentation in place," she says.
But once everything was in place, the Paraguayan Olympic Committee gave the go-ahead. The US team also approved the move.
But there were other hitches.
There was no national ski association in Paraguay, a prerequisite for registering athletes in an Olympic event, which meant that Paraguay's Olympic Committee had to stand in as a guarantor instead.
In November 2013, Paraguay was finally granted provisional membership in the International Ski Federation, and in January Marino qualified for Sochi.
Pride
Marino says it was well worth taking the bureaucratic hurdles.
"I am very proud to be able to represent my country of origin, and it is an absolute honour to be the first Paraguayan to compete at a Winter Olympics," she told BBC Mundo.
Since deciding to start for Paraguay, Marino has made a point of learning about the traditions and culture of her country of birth.
In November, she made her first trip to Paraguay since she was adopted more than two decades ago.
"I listened to Guarani (the local indigenous language, which is still widely spoken) and tried Terere (a local cold tea). It is a very distinctive drink!" she recalls.
Not surprisingly, her story has been widely reported in Paraguay, with headlines proclaiming her "Julia, the Guarani flag bearer in Sochi".
"In the US she was just another athlete, and now she is our unique ski representative," the president of the Paraguayan Olympic Committee, Camilo Perez, said of the skier when he introduced her to the media at a news conference last year.
Chances
Not only is Julia the first Paraguayan athlete at a Winter Games, she is also competing in a discipline that has its debut in Sochi.
Slopestyle is considered one of the most dangerous winter sports, the goal of which is to perform the most difficult tricks during jumps.
Marino has been participating in national competitions since she was 12, and has had her share of injuries.
Last year, she broke her collarbone, an injury which almost put at risk her quest to go to Sochi.
She says she has fully recovered and ready to take on her former teammates from the US.
Places on the podium are going to be hotly contested, but Marin says her hopes are high to not only be the first Paraguayan athlete to take part in the Winter Games, but the first Paraguayan athlete to win a gold medal at such games.