Brazilian 'Mensalao' banker Pizzolato arrested in Italy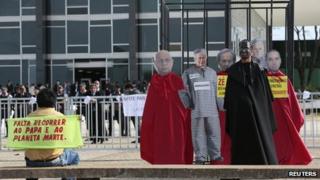 The former director of Brazil's state-owned bank, who was sentenced in Brazil for corruption and money-laundering, has been arrested in Italy.
Henrique Pizzolato, who has dual Brazilian and Italian citizenship, fled to Italy in order to avoid a 12-year prison sentence.
There had been an international arrest warrant against him.
Brazil wants to extradite Pizzolato but Italy is unlikely to agree as he holds Italian nationality.
Pizzolato says his trial was political and has denied the charges.
Dual nationality
Pizzolato, former marketing director for Banco de Brasil, was arrested in the small town of Maranello in northern Italy on Wednesday.
Chief of the local police investigation unit Carlo Carrozzo said Pizzolato had been detained because "there was an international arrest warrant against him" and because he had been using "a false document".
Pizzolato reportedly entered Europe with a passport belonging to his brother, who died in a car crash in the 1970s.
Pizzolato was convicted in Brazil in August 2012, but was allowed to remain free while he appealed against the verdict.
Brazilian police believe he left the country while the appeal was under way, as he could not be located when officers came to arrest him after his sentence was confirmed and his arrest warrant issued on 15 November 2013.
A day later, Pizzolato's lawyer released a letter from his client saying he had fled to Italy "in the hope of getting another trial there, free of media pressure".
On Wednesday, Pizzolato was arrested at his nephew's flat in Maranello, where he is believed to have been hiding for months.
Brazilian Justice Secretary Jose Eduardo Cardozo said he would ask for Pizzolato's extradition.
Italy is unlikely to accede as it does not extradite its own citizens and Pizzolato has Italian as well as Brazilian nationality.
Brazilian newspaper Folha said Pizzolato could only be arrested if Brazil could get the Italian courts to open a case concerning the Mensalao crimes and if, after the retrial, he was convicted.
That, however, would be extremely difficult, according to international law experts interviewed by Folha.
Political scandal
Pizzolato was one of 25 politicians, businessmen and bankers convicted in the big political corruption trial known as Mensalao, or big monthly allowance.
The Supreme Court found that politicians from the Workers Party were making regular payments to members of the governing coalition in exchange for their support in Congress.
The scheme used funds from government bodies, such as Banco do Brasil, for which Pizzolato worked.
Pizzolato was the only one of those found guilty and sentenced to jail terms in the Mensalao trial who did not turn himself in.
The others - which include Jose Dirceu, the former chief-of-staff of ex-President Luis Inacio Lula da Silva - are serving long prison sentences.