Nine fire crew die in Argentina warehouse blaze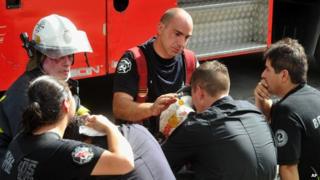 At least nine people have been killed in a fire in a warehouse in the Argentine capital, Buenos Aires.
Seven of the victims were firefighters and two civil defence workers who were tackling the blaze at a bank's archive.
Argentina's Secretary for Security, Sergio Berni, said they were crushed when a 7m-high (23ft) wall collapsed on top of them.
It took 10 fire crews several hours to get the blaze in Buenos Aires' Barracas neighbourhood under control.
It is not clear yet what caused the fire, which also left seven people injured.
Rescuer workers had to remove rubble by hand to reach the dead and injured.
Local official Guillermo Montenegro said more victims could still be trapped beneath the debris.