Bodies of three missing men found on Brazil tribal land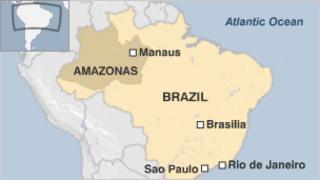 Police in Brazil have found three bodies on a Tenharim indigenous reserve in the Amazon region.
Relatives of three contractors who went missing in the area in mid-December have identified the bodies.
DNA tests are being carried out to confirm their identity and establish the cause of death.
Last week police arrested five members of the Tenharim tribe on suspicion of murder, but the tribe has denied any involvement in the contractors' deaths.
Riots
Luciano Ferreira Freire, Stef Pinheiro and Aldeney Ribeiro Salvador were working for the federal government-owned electricity company, Eletrobras, when they went missing on Tenharim lands in December.
Their disappearance on 16 December, from a road which crosses through the Tenharim lands, set off riots in the nearby city of Humaita.
Non-indigenous residents, who blamed the tribe for the men's disappearance, set fire to government buildings and to boats used to ferry the Tenharim from their reserve to the town.
Tensions between the two groups had been running high since indigenous leader Ivan Tenharim, 55, was run over by a car in the tribe's reserve on 3 December.
Humaita residents accused the Tenharim of killing the contractors in revenge for the death of their leader.
Among those arrested in connection with the case are two sons of Mr Tenharim.
Clashes between indigenous groups and non-indigenous locals are not uncommon in Brazil, as they are often in conflict over land, logging and mining rights.