Breakdown in Panama Canal expansion row talks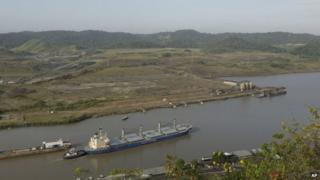 A Spanish-led consortium expanding the Panama Canal says negotiations with the Panama Canal Authority (ACP) aimed at ending a row over cost overruns of $1.6bn (£1bn) have broken down.
Consortium GUPC said the Panama Canal Authority had broken off the talks.
GUPC said the expansion and the jobs of up to 10,000 workers could be at risk.
The consortium had threatened to halt work unless the ACP footed the bill for the overrun, which the Authority argues should be paid by GUPC.
'Respect the contract'
"Without an immediate solution, we face years of disputes in national and international tribunals," Sacyr, the Spanish company leading the consortium said in a statement.
It also said that it continued "to seek a solution for funding the completion of the project and completion of the works in 2015, even as the Panama Canal Authority broke off negotiations".
There has so far been no official statement from the Panama Canal Authority, but canal administrator Jorge Quijano has in the past said that "no matter what kind of pressure is exercised against the ACP, we maintain our demand that GUPC respect the contract that they agreed to and signed".
Panama argues that the cost overruns are due to events that should be "normal" in such a construction project and be paid for by the consortium, which is made up of Sacyr, Impregilo of Italy, Belgian firm Jan De Nul and Constructora Urbana, a Panamanian firm.
Delays
The contract involves building a new larger set of locks that can accommodate ships that can carry 12,000 containers.
At the moment the biggest ships that can navigate the canal carry 5,000 containers.
Work began on the expansion in 2009.
Construction is due to be completed in June 2015, nine months behind schedule, with the overall cost of the project expected to be $5.2bn.
Any delay might be expected to cost Panama millions of dollars in lost revenue from toll charges.
The Panama Canal, which was inaugurated in 1914, is one of the world's most important shipping routes.