Brazil power cuts in cities 'caused by short circuit'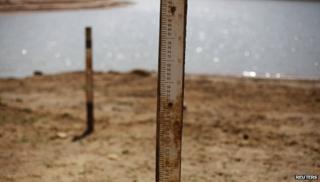 A heat wave was not responsible for a power cut in Brazil that left more than three million people across the country without electricity on Tuesday, the energy ministry has said.
It says that a short circuit in a transmission line caused parts of the system to shut down.
Two of the country's biggest cities, Sao Paulo and Rio de Janeiro, partially lost electricity in the black-out.
At least 11 states in the south, north and centre of Brazil were affected.
The government described its response to the "medium-scale" blackout as an "efficient emergency procedure".
The "disturbances" in the national electric system triggered an automatic shut-off response to some distributors, Brazil's grid operator, the ONS, said in a statement.
The BBC's Jefferson Puff in Rio de Janeiro says that the blackout caused traffic disruptions in many districts of the city and in Sao Paulo. Parts of the country remained without power for over four hours.
Our correspondent says that the interruptions came less than 24 hours after the ONS indicated a record in energy demand for electricity.
Brazil has been experiencing one of its hottest summers in recent years.
In the south-east, home to Rio and Sao Paulo, the dry climate has left water reservoirs at their lowest levels since 1953.
On Monday, Energy Minister Edison Lobao said there was no risk of electricity rationing.
Brazil is due to host the World Cup later this year.
Power cuts in Brazil are less frequent than in the past, but still happen a few times a year. A blackout in August left nine states in the dark for nearly three hours.