El Salvador presidential poll to go into run-off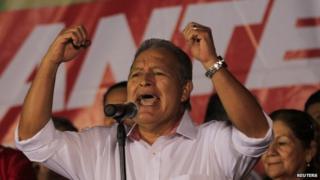 Left-wing candidate Salvador Sanchez Ceren of the FMLN party has a convincing 10-percentage-point lead in El Salvador's presidential election, according to preliminary results.
However, Mr Sanchez Ceren fell short of the 50% needed to avoid a run-off.
Mr Sanchez Ceren, a rebel during the country's civil war, will face right-winger Norman Quijano on 9 March.
The poll reflects the deep political rift which still divides the Central American nation 22 years after the war.
Popular policies
Mr Sanchez Ceren's party, the Farabundo Marti Liberation Front (FMLN), turned from a rebel group into a political party at the end of El Salvador's civil war (1980-1992).
When the FMLN won the 2009 presidential election, Mr Sanchez was named vice-president.
Analysts say the party's welfare programmes, such as free school supplies, were popular with voters.
Mr Sanchez Ceren, 69, won 48.9% of the votes, with the right-wing Arena party candidate, Norman Quijano, trailing with 38.95%.
Former president Antonio Saca (2004-2009) came third with 11.4%.
It is not clear who Antonio Saca's supporters will back in the 9 March run-off, which will pitch the top two candidates against each other.
Gang war
Mr Quijano, who quit his post as mayor of San Salvador to run for president, campaigned on a promise to crack down on the country's criminal gangs.
El Salvador has one of the world's highest murder rates, which is blamed largely on the fights between two rival gangs: Mara Salvatrucha and Barrio 18.
The two gangs entered into a truce in 2012, but the number of murders has recently been going up again and some analysts fear it may not hold much longer.
Mr Quijano said he would deploy the army against the gangs and accused the FMLN government of negotiating with criminals.
If Mr Sanchez Ceren wins the run-off, he will become the first former rebel to serve as El Salvador's president.