Deadly fire in Colombia prison leaves 10 inmates dead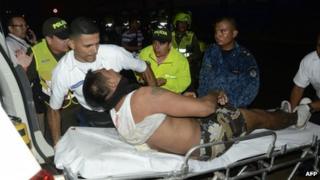 At least 10 inmates have died in a fire at a prison in the Colombian city of Barranquilla on the country's Caribbean coast, police say.
More than 40 prisoners were taken to hospital, where they are being treated for burns.
The fire reportedly started during a clash between inmates and guards in cell block B of Modelo jail, where more than 200 prisoners are housed.
It took seven fire engines to extinguish the 12m-high (39ft) flames.
The director of the Colombian prison system, Gen Saul Torres, told local radio that a fight broke out after guards carried out a search of the cell block during which drugs, mobile phones and weapons were confiscated.
Gen Torres said that the guards fired tear gas to break up the fight, at which point the fire started.
Barranquilla Mayor Elsa Margarita Noguera said it "isn't right that we can't guarantee the safety of our prisoners".
She also said the prison was overcrowded.
About 200 police and a hundred guards have surrounded the jail to prevent any inmates from escaping.