Brazil and its 'relatively simple' World Cup delays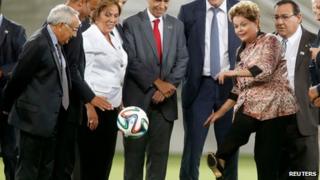 In a rare question-and-answer huddle with Brazilian journalists this week, President Dilma Rousseff pronounced with confidence that the beleaguered new football stadium in the southern city of Curitiba would "definitely" be ready for the World Cup.
Mrs Rousseff was speaking on the pitch at the Arena das Dunas in the northern coastal city of Natal, which she had just officially opened with a rather nervous kick of a ball from the centre-spot.
It was a rare high-point for Brazil - and its World Cup organisers - after a disastrous week during which a high-level Fifa delegation had seen, warts and all, the state of the country's readiness for the tournament that begins in mid-June.
The governing body of world football is not known for precipitating political rows or disputes with its member nations. Quite the opposite, in fact. Fifa officials are often accused of cosying up to politicians and business in host countries in order to help facilitate whichever event may be taking place there.
But, with Brazil, even Fifa has had to speak out.
First stop on the week-long visit was the new Itaquerao stadium in Sao Paulo, which is due to hold the opening match of the tournament between Brazil and Croatia.
A terrible accident at the end of November, when a crane collapsed on part of the roof, not only killed two workers but also pushed back the timetable for the stadium's completion.
As Fifa's secretary-general toured the site, the crane was still embedded in the roof. Jerome Valcke nodded thoughtfully as local officials outlined their plans to complete the project by early April, barely six weeks before the most important football match since the last World Cup final in 2010.
Sao Paulo is not an isolated case. Six of Brazil's 12 World Cup stadiums missed the end of 2013 deadline.
While such delays are not unique to Brazil, or to the World Cup, they are indicative of a chaotic, troubled process.
Mr Valcke's inspection tour was then due to head west to Cuiaba and north to Manaus where the Arena da Amazonia is also running late. (It was also the site of a fatal accident in December when an untethered worker fell to his death from a roof.)
Dozens of workers the BBC spoke to this week said they had not been paid for weeks and were coming under tremendous pressure to finish the project.
In response, stadium bosses denied anyone was coming under undue pressure and that safety standards had been tightened since the tragedy in December.
Lost opportunity
However, pressing news from southern Brazil forced a highly unusual change to Mr Valcke's plans.
The news from Curitiba was not good. Contractual disputes and financing "issues" among other problems meant the city's new Arena da Baixada was not just weeks but potentially months behind schedule.
What the Fifa team saw shocked them. Mr Valcke said he "did not like it" and was disturbed to see so many delays.
In an announcement that shocked the Brazilian government and its football establishment, Mr Valcke declared that unless things visibly improved before the committee's next visit in early February, Curitiba would be excluded from the tournament and the four scheduled games moved to other grounds.
Later in the week, it was all smiles and handshakes as Mr Valcke and President Rousseff met up in Natal for the inauguration of the Arena das Dunas.
But out of camera shot, as Mrs Rousseff spoke to local officials and dignitaries, Mr Valcke watched on from the stands, frowning and pensive.
'Rush job'
Even in Natal, all is not as it seems.
The United States coach and former German striker Jurgen Klinsmann had earlier in the week described the new venue as "beautiful".
While the pitch certainly looks ready to hold World Cup matches, the exterior structure looks hastily and haphazardly put together.
Lagging and insulation hang out everywhere from the upper areas. The corrugated roof covering has been roughly cut and put in place in what can only be described as a "rush job".
From a distance the Natal stadium resembles the smooth dunes that characterise this stunning part of the country, but close-up it leaves a lot to be desired.
Brazilians are passionate about their football and are rightly proud of their country's unparalleled record in the World Cup.
They also expect their current side to win this tournament on home ground, adding a sixth winner's star to the crest on the famous gold shirt.
But everywhere I travel in this vast country, touring the World Cup venues, I hear the same complaints and misgivings. From Manaus to Cuiaba to Rio de Janeiro, many Brazilians regard the tournament as a lost opportunity.
To start with it has cost the country, and individual state governments, billions of dollars. Initial promises that private finance would cover the cost of building new stadiums evaporated and about 80% of the bill is now being met from the public purse.
More damning, though, are the cancelled or delayed infrastructure projects that were meant to accompany the new stadiums and boost wider development in host cities.
Promised rapid transit systems, light rail, airport upgrades and other transport initiatives have all been quietly shelved or radically downgraded in Manaus, Salvador and numerous other venues.
I am a passionate football fan and consider myself very fortunate to be based in Brazil covering such a huge sporting event, but the more I see of how Brazil is preparing to host the tournament, the more I am convinced the country as a whole will not reap much benefit.
As President Rousseff spoke on the pitch in Natal, no-one thought to ask her how she could be so confident that, somehow, officials down in Curitiba will turn things around in just a couple of weeks.
Who has given her such "guarantees"? Is it just typical Brazilian optimism, or does the president know something which the damning images from Curitiba and Fifa's unusually critical statement failed to convey?
Flying straight from Natal to the global economic forum in Switzerland, Mrs Rousseff made a "courtesy visit" to Fifa headquarters in Zurich.
After a recent spat over Twitter about Brazil's preparation for what is, after the Olympic Games, the second biggest sporting event on earth, the two presidents (Rousseff of Brazil and Sepp Blatter of Fifa) were again singing from the same hymn sheet.
Completing the remaining stadiums and infrastructure projects was "a relatively simple" matter, the Brazilian leader assured the head of world football.
Jerome Valcke and the organisation he runs must share some of the blame for the way these tournaments are scheduled and financed.
But Mr Valcke is losing patience with Brazil and time is running out.