Argentine President Cristina Fernandez breaks six-week silence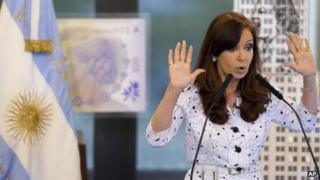 Argentine President Cristina Fernandez de Kirchner has made her first public speech in six weeks, ending a long silence that led to questions about her health following brain surgery.
Ms Fernandez was welcomed by hundreds of supporters at the presidential palace in Buenos Aires.
In a televised address, she announced a plan to help unemployed young people.
She dismissed speculation about her health and criticised Argentina's media.
Ms Fernandez had an operation on 8 October to remove a blood clot from her brain and returned to work on 18 November.
But she had not spoken in public since a high-profile ceremony in Buenos Aires on 10 December .
"They wanted to create the impression among the Argentine people that I couldn't do it anymore," she said, referring to the media, which is largely hostile to her government.
"The truth is I had some problems, but I would like to see who, facing the same problems, would have continued to govern for 40 million Argentines," said Ms Fernandez.
"I hope nobody criticizes this nationally televised address after demanding my presence so much," Ms Fernandez added ironically.
The opposition said Ms Fernandez had "disappeared" as the country's economic crisis worsened.
Inflation is on the rise and Argentina's foreign currency reserves are now at their lowest level since 2006, just under $30bn (£18bn).
But Ms Fernandez, who was re-elected by a large margin in 2011, defended her government's economic record.
"What annoys them [the opposition] is Argentina's full employment, is the [growing] share of the GDP going to wages and salaries" she said.
Ms Fernandez said that the shift in favour of Argentina's working class began in 2003, when her husband, Nestor Kirchner, was elected president.
Mr Kirchner was succeeded by his wife in 2007 and died suddenly in 2010 of a heart attack.