Fifa threat to Brazil's World Cup host city of Curitiba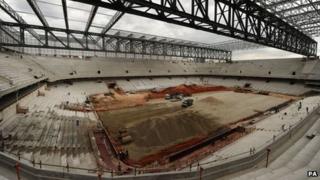 Fifa has warned Brazil's World Cup 2014 host city of Curitiba that it could be excluded unless work speeds up.
Fifa secretary general Jerome Valcke said that work at the Arena da Baixada stadium was seriously behind schedule.
A decision on whether Curitiba, in southern Brazil, will remain as a host city will be announced on 18 February, he said.
Less than five months before the tournament kicks off, six out of 12 venues are still unfinished.
Four matches are due to be played at the 42,000-capacity Curitiba stadium: Spain-Australia, Honduras-Ecuador, Iran-Nigeria and Algeria-Russia.
After a visit to inspect the work at the Arena da Baixada, Mr Valcke described the situation as "delicate" and "very complicated".
"Let's be honest. We do not like the current state of the stadium. This is not only delayed, it is way behind schedule," he said.
The warning should come as a wake-up call for Brazil's organising committee which has been criticised for downplaying the seriousness of the delays in Curitiba and at several other venues, says the BBC's Wyre Davies.
The Arena da Baixada stadium, which is 90% complete, is privately owned. It opened in 1999 and is being renovated for the tournament.
It belongs to one of the city's main football clubs, Atletico Paranaense, but a substantial part of the renovation cost is being financed by public money.
Fifa and the Parana state government have promised to inject an extra $17m (£10m) to speed up work at the venue.
The World Cup will begin on 12 June. The opening match is scheduled to be played at the Arena Corinthians (or Itaquerao) in Sao Paulo, but work there is also running late.
The final match will be played at the famous Maracana stadium in Rio de Janeiro, which has been ready for nearly a year.
Brazil's preparations for the World Cup have been hit by cost overruns and public protests over what is seen as wasted resources.