Colombian army kills 14 Farc rebels in Arauca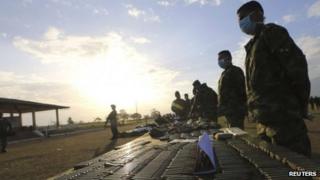 Colombian troops have killed 14 rebels during an operation in the north-east of the country, the army says.
It says the dead belonged to Colombia's main rebel group, the Farc, and were involved in the sabotage of oil installations in Arauca province.
The Colombian government and the left-wing rebels have been holding peace talks in Cuba for more than a year.
But the fighting has continued despite repeated calls by the Farc for a temporary cease-fire.
The government says the end of military activity would provide an opportunity for the rebels to rearm.
The Farc declared a unilateral ceasefire during the Christmas period. It expired last week.
Colombian President Juan Manuel Santos has said that fighting will continue until the rebel group agrees to give up its armed struggle and join the legal political process.
The Colombian army says the latest operation in Arauca, close to the border with Venezuela, began on Saturday with aerial bombardment and ground attacks.
The alleged leader of the Alfonso Castellanos column of the Farc, known as Franklin, is probably injured, army general Luis Danilo Murcia told RCN radio.
The government and the Farc have been in negotiations since November 2012 to end a 50-year war which has killed an estimated 220,000 people.
They have so far reached agreement on land reform and on a political future for the left-wing rebel group should a peace deal be reached.
The latest round of talks focuses on illicit drugs and drug trafficking.