Mexico replaces security chiefs in conflict-hit Michoacan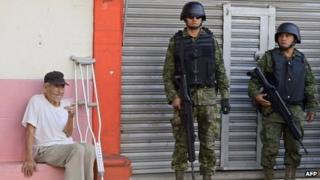 Mexican authorities have said top security officials will be replaced in the western state of Michoacan that has recently been rocked by violence.
Hundreds of troops have recently been deployed to restore order after groups of vigilantes clashed with a drug gang.
But many vigilantes are refusing to heed the government's call to disarm.
This is despite reassurances by the federal government that the "self-defence groups" are not the target of an ongoing security operation.
Governor Fausto Vallejo says Jose Godoy will succeed Marco Aguilera as attorney general, while Carlos Castellanos will replace Alberto Reyes as police chief.
Interior minister Miguel Angel Osorio Chong said earlier this week that he wanted to convince the vigilantes that "we are going to do our job".
He said that the security forces had identified the three top leaders of the Knights Templar drug cartel and were hunting them down.
Two alleged members of the cartel were arrested on Wednesday, but the self-defence groups dismissed them as "minor players".
The vigilantes accuse the government of not doing enough to protect locals from the extortion and violence carried out by the gang.
The Knights Templar, who claim to protect the local population from attacks from rival gangs, have accused the self-defence groups of siding with the New Generation drug cartel based in neighbouring Jalisco state.
They say the fact that some of the vigilantes are carrying powerful assault weapons shows they are not local farmers but are in the pay of the New Generation gang.