Brazil World Cup: More flights scheduled to meet demand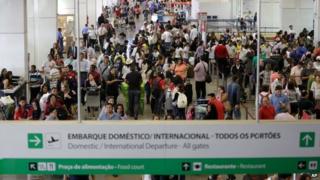 Aviation authorities in Brazil have authorised nearly 2,000 extra flights to cope with soaring demand during this year's World Cup.
There has been mounting controversy over air ticket and hotel prices charged to fans faced with crossing a country the size of the continental US.
Some companies have already set price ceilings for domestic flights, though maximum prices are still substantial.
Three million home and 600,000 foreign fans are set to travel for the event.
The number of people flying in Brazil has risen significantly in recent years, but airlines have cut routes and staff in a bid to restore profitability.
The Civil Aviation Authority said an additional 1,973 new flights would be permitted between 25 airports in June and July.
'Abuse' concerns
The routes between Rio de Janeiro and Buenos Aires (Argentina), Brasilia and Sao Paulo, and Fortaleza and Sao Paulo are among those that will have the most additional flights.
But some have expressed concern that the additional flights could place extra pressure on already crowded airports and related infrastructure.
Airlines Azul and Avianca Brasil recently pledged to cap one-way domestic fares at 999 reais ($425; £260), but the two biggest carriers - Gol and Tam - have not.
Brazilian authorities have suggested that foreign airlines might be allowed to operate internal flights during the tournament if there is evidence of "abusive" price hikes.
Hoteliers and consumer groups in Rio have also agreed not to charge prices higher than peak New Year or Carnival season prices, amid reports that tourists face prices of hundreds of dollars per night.