Bomb explodes in Colombian town as rebel ceasefire ends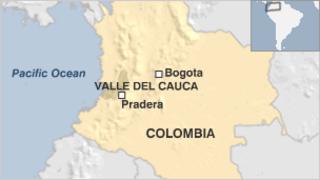 At least one person was killed when a bomb went off in the town of Pradera in western Colombia, officials say.
Dozens of people were injured when a motorcycle packed with explosives detonated outside a police station.
The town's mayor said he had been warned that Colombia's largest rebel group, the Farc, were planning an attack.
The rebels announced on Wednesday that their month-long unilateral ceasefire had come to an end.
'Irrational act'
They had called the ceasefire as a "good-will gesture" over the Christmas period.
The government, which has been engaged in peace talks with the rebels for over a year, has always refused to enter into a truce, arguing that the rebels would only use it to re-group and re-arm.
The Farc have not claimed responsibility for the attack but police said it was the most active of the criminal groups operating in the area.
Mayor Adolfo Leon Escobar said he was in his office when the bomb exploded right outside. "The roof just collapsed on top of me," he said.
President Juan Manuel Santos ordered Minster of Defence Juan Carlos Pinzon to travel to Pradera to co-ordinate the investigation into the explosion.
"What an irrational and contradictory form of acting on part of the Farc," the president tweeted.