Mexico Church calls for greater peace efforts in Michoacan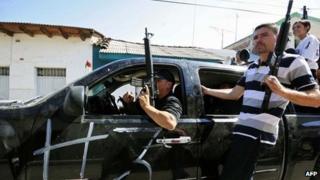 The Catholic Church in Mexico is urging President Enrique Pena Nieto to make greater efforts to bring peace to the western state of Michoacan.
The BBC has obtained a copy of an open letter to the president and Mexican society signed by Bishop Miguel Patino.
"We want Michoacan to be a state under the rule of law," the bishop said.
Vigilante groups have seized several towns in the area over the past week, as part of an offensive against the Knights Templar drug cartel.
Federal troops were sent to the region on Monday to quell the violence, but the situation remains tense and shows no sign of improving, says the BBC's Will Grant.
Most of the vigilantes have ignored government orders to lay down their weapons.
On Tuesday, the vigilantes say Mexican soldiers killed at least three local citizens.
One of the victims, Alberto Flores, was buried on Wednesday in the town Buenavista Tomatla.
"We cannot demand everything of the authorities," Bishop Patino told the BBC.
"Rather, society must make demands of itself, the family must make demands of itself, we as people must make demands of ourselves to act in keeping with our conscience."
Miguel Patino is the bishop of Apatzingan, the town where the Knights Templar cartel has its centre of command.
Heavily armed federal police have been patrolling the main areas of the town.
In other municipalities, federal officers have disarmed local policemen. The vigilantes accuse local police forces of involvement with the drug cartel.
State governor Fausto Vallejo has made only general comments about a commitment to peace with no concrete plan of action announced.
The vigilante groups first emerged in early 2013 in response to the crimes perpetrated by the drug cartel, which range from extortion to kidnappings.
Local citizens said that they had no choice but to arm themselves as federal troops failed to guarantee their security.
The Knights Templar, which controls much of the methamphetamine trade to the United States, says the vigilantes have sided with their rivals in the New Generation cartel, from neighbouring Jalisco state.
The "self-defence groups" fiercely deny involvement with any criminal organisation.