Bogota Mayor Gustavo Petro's sacking put on hold by court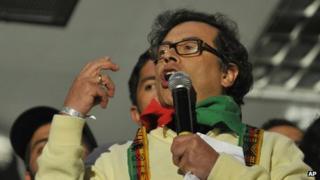 A court in Colombia has temporarily put on hold a controversial decision by the country's inspector general to remove Bogota Mayor Gustavo Petro from office.
Judge Jose Armenta said the sacking should not be enforced until it had been established whether Mr Petro's rights had been violated.
Mr Petro welcomed the court's decision saying that "justice had won".
He was fired last month over the alleged mismanagement of the capital's rubbish collection service.
He was also banned from holding public office for 15 years. But Colombian legislation allows Mr Petro to remain in office until the end of the appeal process.
The move caused outrage among Mr Petro's supporters and thousands took to Bogota's Bolivar Square in protest.
Mr Petro, a former rebel with the left-wing M-19 guerrilla group, said his sacking was politically motivated.
'Bad mayor'
Under the Colombian constitution, the inspector general has the power to remove officials from office, but such action is normally only taken in major corruption scandals.
Mr Petro is accused of violating the principles of the free market by trying to have the city take over waste management services from private companies.
Inspector General Alejandro Ordonez said it had negatively affected public health when mountains of garbage were left uncollected for three days in 2012.
But Mr Petro's supporters say his removal is out of proportion with the allegations made against him.
They allege that Mr Petro is being targeted for his rebel past and his subsequent success in democratic politics.
The M-19 guerrilla movement he was part of demobilised in March 1990 and became a political party.
Mr Petro is seen as an example of how former rebels can be integrated into the political process.
His removal from office at a time when Colombia's largest rebel group, the Farc, is in peace talks with the government was seen as potentially disruptive - especially as the two sides had just reached agreement on how Farc fighters could transition from guerrilla warfare to electoral politics.
But Inspector General Ordonez has insisted he sacked Mr Petro "for being a bad mayor".
"He is going because he broke with his duties in the most serious of manners; for acting in a way which inflated the public purse and which should be investigated; for ignoring the constitution and its limits; and for putting the health of Bogota residents and the city's environment at risk," he told local television channel CityTV.
Mr Ordonez's office said it would decide whether to appeal against the court's suspension.