Renowned Argentine poet Juan Gelman, 83, dies in Mexico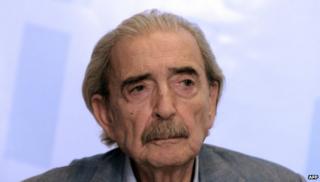 Argentine poet Juan Gelman has died aged 83 in Mexico City. He is considered to be one of the greatest authors in Spanish and was awarded the prestigious Cervantes Prize in 2007.
Mr Gelman, a left-wing activist and a guerrilla in Argentina in the 1960s and 1970s, lived in Mexico for 20 years.
He wrote more than 20 books and regular columns for newspapers.
His son and his pregnant daughter-in-law died after being abducted by the military government in the 1970s.
Official accounts say almost 20,000 people disappeared at the hands of the regime in between 1976 to 1983, but human rights groups say the figure is at least 30,000.
In 1990 Mr Gelman was able to identify his son's remains, discovering that he had been executed and buried in a barrel filled with sand and cement.
He was never able to find the remains of his daughter-in-law Maria Claudia.
But in 2000, he was also able to trace his granddaughter, born before Maria Claudia's presumed murder. The child had been handed over to a pro-government family in Uruguay.
The reunion was one of the most high profile involving disappeared people in Argentina's history - fewer than 600 victims of the 1976-83 "dirty war" have been found.
Correspondents say that Mr Gelman's work celebrates life but is also tempered with social and political commentary, reflecting his own painful experiences with the politics of his country.