Mexican police start to disarm vigilantes in Michoacan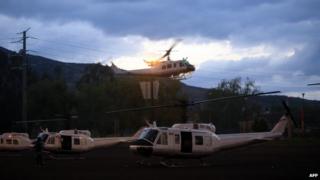 Mexican security forces sent to quell unrest in the western state of Michoacan have started disarming local vigilante groups, state officials say.
The "self-defence groups" took control of a number of towns in an effort to drive out members of a drug cartel.
The army moved into Nueva Italia, where vigilantes and members of the Knights Templar drug gang engaged in a fire fight on Sunday.
Mexico's interior minister has urged the vigilantes to lay down their arms.
The minister, Miguel Angel Osorio Chong, said they should either join the police force or disarm.
'To the end'
Soldiers and marines have also moved into the towns of Nueva Italia, Paracuaro and Antunez.
Leaders of the "self-defence groups" have given contradictory statements as to whether they would disarm.
The leader of the General Council of the Community and Self-Defence Groups of Michoacan, Jose Manuel Mireles said in a video message from Mexico City - where he is being treated for injuries sustained in a helicopter crash - that he would "heed the call from the interior minister".
But in a subsequent video published on YouTube, Mr Mireles denied he had ordered his group to disarm, saying he could not give such orders without calling a meeting of the group's general council.
Other vigilante leaders were adamant they would not lay down arms.
Estanislao Beltran who heads a vigilante group in the town of Tepalcatepec said two of his men had been killed amid a tense standoff with federal security forces.
"We're here to the death, all of us," he warned.
There has been no official confirmation of the alleged killings.
Hipolito Mora, who founded one of the first "self-defence groups" to emerge in the town of La Ruana also said that his movement "would continue".
'Criminal links'
The vigilantes argue that the federal forces should concentrate on targeting the Knights Templar drug cartel before asking them to disarm.
"Our objective is to clean [this area] of the Knights Templar," Mr Beltran said.
"If the federal government catches all the top leaders of the Knights Templar, like alias Chayo, alias Tuta, and alias Quique, which are the ones behind all the kidnappings, then we can see what we do."
The vigilante groups first emerged in early 2013 as response to the violence perpetrated by the drug cartel, which ranges from extortion to kidnappings.
Local citizens said that they had no choice but to arm themselves as federal troops failed to guarantee their security.
The Knights Templar, which controls much of the methamphetamine trade to the United States, says the vigilantes have sided with their rivals of the New Generation cartel, something the "self-defence groups" fiercely deny.