Mexico vigilantes clash with Knights Templar cartel in Michoacan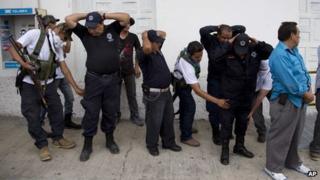 A group of vigilantes in Mexico has seized the small town of Nueva Italia after clashing with alleged members of the Knights Templar drug cartel.
More than 100 men entered the town in western Michoacan state on Sunday morning and disarmed local police.
There were exchanges of fire with alleged gang members before the vigilantes occupied the town.
The vigilante group was set up by residents who say the army and the police have failed to protect them.
The Knights Templar has been fighting the New Generation cartel, from neighbouring Jalisco state, for control of criminal activities in the area.
Vigilantes, also known as self-defence groups or community police, have been active in several Mexican states.
In Michoacan they control several towns. A few days ago they launched an offensive, occupying the towns of Paracuaro and Antunez.
They say they are advancing towards Apatzingan, the alleged headquarters of the Knights Templar gang.
Federal troops were nowhere to be seen during the invasion of Nueva Italia, according to the AP news agency.
In Paracuaro, local reports say they were initially backed by the local population.
But later, residents rioted and set fire to many of the vigilantes' vehicles in a failed attempt to expel them.
The self-defence groups have been accused of siding with the New Generation cartel. They deny any involvement.
Correspondents say the clashes in Michoacan will be a major challenge for President Enrique Pena Nieto, who was elected a year ago promising to boost the economy and reduce violence levels.
More than 70,000 people have died in drug related violence in the past six years.