Gunmen kill Brazil church's pastor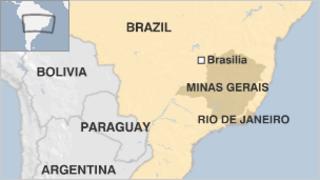 Police in Brazil say two gunmen have fatally wounded an evangelical pastor at his church in the city of Belo Horizonte.
The gunmen reportedly entered the city's Universal Church of the Kingdom of God, and shot him in the head before fleeing by car.
Police said there was no evidence the men were robbers.
They said the pastor, Charles Vidal de Souza, died shortly after arriving at hospital.
It is not clear whether the pastor, who was 34, was the intended target of the assault.
He was found in an office in the church where there were signs of a struggle, according to police.
The killing happened in a middle-class neighbourhood of Belo Horizonte, the state capital of Minas Gerais.
The populous city is around 700 km (400 miles) south-east of the capital, Brasilia.
Gun violence is high in Brazil, but attempts at banning the sale of guns have failed in the past.
A 2005 referendum on the issue was defeated by a clear majority.