Brazil World Cup: Government moves against 'abusive' air fares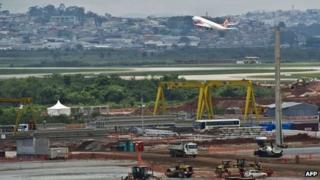 Foreign airlines may be allowed to operate internal flights during this year's football World Cup, the Brazilian president's chief of staff, Gleisi Hoffmann, says.
Ms Hoffman said President Dilma Rousseff was considering issuing a decree to open the internal market in order to prevent abusive price hikes.
Brazil expects 600,000 foreign tourists to travel to the country for the event.
There are huge disparities between fares charged by different companies.
"We have not taken a decision as yet, but if there is abuse that is one of the measures being considered," Ms Hoffman told the Folha de Sao Paulo newspaper.
She said the measure could be introduced in good time for the World Cup by Ms Rousseff, as the Brazilian constitution grants the president powers to rule by decree in special circumstances.
Two Brazilian airlines - Gol and Tam - share most of the market.
Ms Hoffman said the government also expects hotel prices to rise during the tournament, which will be played in 12 cities between 12 June and 13 July.
"We have held meetings with hotel owners and the airlines. We want all the businesses to get a return for their investment during the major events [Brazil is hosting], but prices must be fair," she said.
Some three million Brazilian football fans are expected to join foreign tourists travelling around the country to watch the matches.
Six of the 12 venues that will be used in the competition are yet to be finished.
The main concern is the new arena under construction for the opening match, in Sao Paulo.
After an accident that killed two workers in December, the Brazilian authorities say the Arena Corinthians, or Itaquerao, will only be ready in mid-May.
World football governing body, Fifa, says it believes the stadiums will be ready in time.
But Fifa has also expressed concern about the wider infrastructure, including overcrowded airports and a lack of hotels.
Fifa president Sepp Blatter said that "Brazil has now realised that it started up too late".
"It is the country with the biggest delays in World Cup preparations since I became president. And it is the one that had the most time to get ready, seven years," he told Swiss newspaper 24 Heures.
The Brazilian government is spending more than $15bn (£9.1bn) on World Cup infrastructure, including new and modernised stadiums.
Work is also running behind schedule for the 2016 Olympics, which will take place in Rio de Janeiro.