Mexico prison gunfight leaves nine dead in Guerrero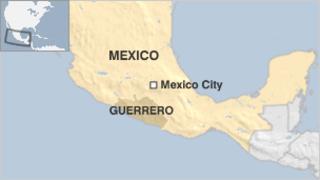 The Mexican army has taken control of a prison in the south-west of the country after a gunfight left nine people dead.
Prosecutors said six gunmen entered the jail in Iguala, in Guerrero state, posing as public officials delivering a prisoner.
Once inside, they opened fire on a group of inmates, killing four of them.
They then took aim at the guards on a security tower, but five of the gang died when the guards returned fire.
One of the gunmen and a guard were injured in the gunfight.
Local authorities said the dead inmates were serving time for drug trafficking and kidnapping.
The motive for the killings is not yet known, but rivalries between drug gangs have often been played out in prisons.
Guerrero state, home to the resort of Acapulco, is one of the most violent in the country.
Turf wars between drug cartels like the Knights Templar and the Zetas are common there.
Self-defence vigilante groups have formed in several towns in the region. They have vowed to fight the violence, kidnappings and extortion carried out by drug cartels.
More than 60,000 people have died across Mexico since 2006 when the previous government under Felipe Calderon deployed the military against the drugs gangs.