Brazilian Tenharim tribe returns to Amazon reserve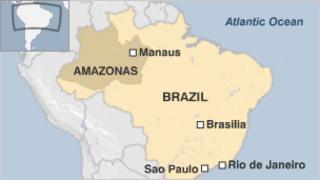 Some 150 indigenous people in Brazil's Amazon region have returned to their reserve, several days after seeking refuge in a nearby military base.
Members of the Tenharim tribe fled their lands on Christmas Day, after riots in the nearby town of Humaita.
Local groups accused the tribe of abducting three government workers two weeks ago.
The three men were last seen near the indigenous lands, in Amazonas state, but the tribe denies any involvement.
Local groups say the contractors were abducted and taken to the reserve in retaliation for the death of an indigenous leader.
The police say the man, Ivan Tenharim, was run over by a vehicle on a road that crosses the reserve, but tribe members believe he was murdered.
On Saturday, more than 200 policemen were deployed in the reserve - some 600km (370 miles) south-west of the state capital, Manaus - to begin a search for the missing men.
The police presence may have reassured the indigenous people that it was safe to return.
Clashes between indigenous groups and non-indigenous locals are not uncommon in Brazil as they are often in conflict over land, logging and mining rights.