Indigenous reserve in the Brazilian Amazon attacked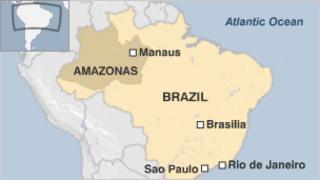 An indigenous reserve in Brazil's Amazon region has been attacked in the latest incident of violence in the region.
Farmers and loggers set fire to houses in the reserve located in the town of Manicore, in Amazonas state.
Earlier, members of another tribe - the Tenharim - sought refuge in a nearby military base.
Townspeople in the region say members of the indigenous group abducted three contractors over a week ago.
The three men were last seen near the reserve, in the town of Humaita.
Local groups want police to carry out a full search of indigenous lands.
Tensions between non-indigenous residents of the two towns in Amazonas state and indigenous people have been running high since a Tenharim leader was found murdered.
Some residents believe the Tenharim may be holding the three missing men in retaliation for the killing of their leader.
Buildings burned
Earlier in the week, non-indigenous locals burned down buildings and clashed with police.
On Wednesday, about 3,000 Humaita residents protested against what they see as the slow speed of the investigation into the disappearance of the contractors.
They occupied the offices of the government's Indian affairs office, Funai, for hours, eventually setting it alight.
Others burned cars and a boat used to ferry the Tenharim from their reserve to the town.
A health care centre for the tribe also went up in flames.
About 120 military police officers tried to restore order. Riot police were sent to Humaita and the local police commander has requested further reinforcements.
Clashes between indigenous groups and non-indigenous locals are not uncommon in Brazil as they are often in conflict over land, logging and mining rights.